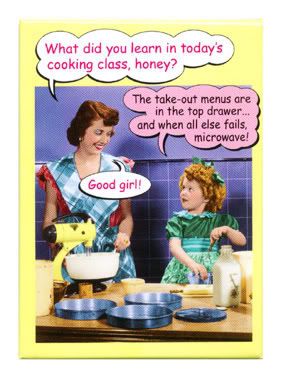 The above picture makes me laugh!!! So true. 
So, I'm holding myself to my commitment of cooking one new meal a week. Last night I made an 
eggplant (noodle less) lasagna
 for the two of us. It was super yummy! Next time I make this I might try a variation of the recipe but all in all it was great. 
I'm laughing as I cannot remember the last time I had a true lasagna with ground beef. Most of mine have consisted of ground lean turkey or soy protein crumbles. And then there is Peter who cannot remember the last time he had lasagna without ground beef. So let's just say that a noodle less lasagna was a new one for Peter!  
This reminds me of when Peter told the priest (that is marrying us) that I was making my famous lasagna one night for dinner. He was coming over to talk to us about our ceremony. I had to remind Peter that I had NEVER made lasagna before. Little did Peter know that the lasagna was going to have lean ground turkey and cottage cheese instead of the usual. So we then had to tell Father Leroy that this was not exactly my famous lasagna but very 
healthy lasagna